Frequently Asked Questions
Check through our frequently asked question section.
Collapsible content
How Do I Choose Hinge Side

When selecting hinge side, always choose as if standing on the outside of the door - See Diagram below
Where are Handles and Keys

Handles are placed in a White Box and are stored within the door packaging

Keys are either in a white bag in the top of the frame, or in the side of the frame attached with cable tie
How Does the Expandable Frame Work

Our Heavy Duty and Extra Heavy Duty Door frames come supplied with side channels that are fitted around the outside of the frame. The side channels expand by winding out the fixing bolts which in turn push the side channels outwards allowing you to expand the frame between the two measurements.
Can the door open inwards

All our doors are designed to open outwards which makes them more secure and weather-proof. If you require the door to open inwards you are required to install the frame the opposite way, this does have an effect on the security and weather-proof aspect of the door. We would recommend adding a rain drip to any inward opening doors being installed externally helping to prevent water ingress.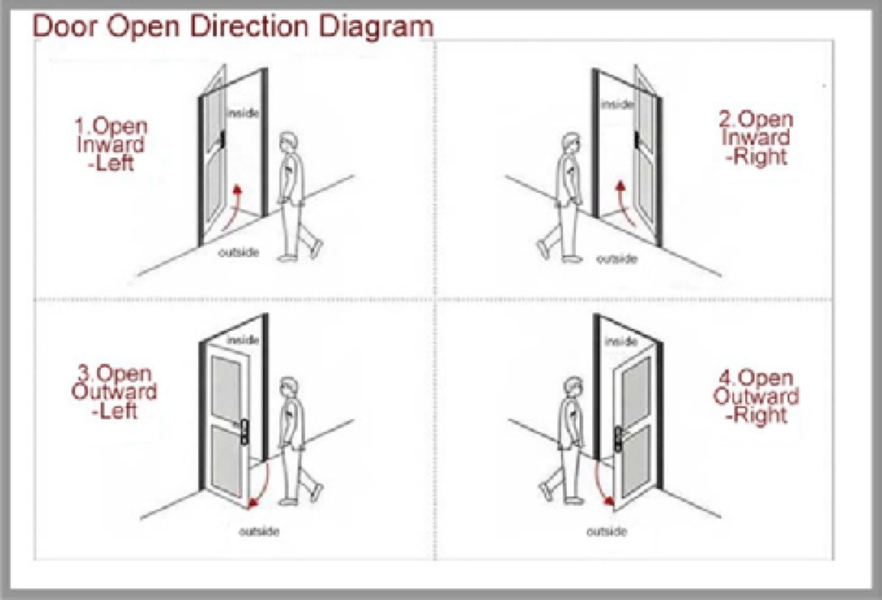 How to choose your hinge side
Imagine that you are viewing the outside of your door and decide if you want the hinges on the left or rightg side
Choose if you want the door to open in or out.